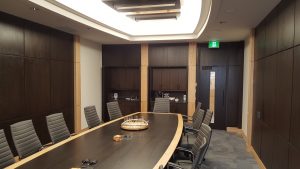 Many of Scott Construction's clients require office space planning or layouts and a selection and specification of finishes and products. David Scott founded Scott and Company in 1976 to service commercial/industrial clients in the Niagara Peninsula. It was from the needs of some of these clients that Scott Construction evolved, where Mr. Scott had the ability to see a project through to completion, maintaining the integrity of the client's original concept and best interests.
The original principles have carried over into the foundations of Scott Construction. Every new client and all new projects with existing clientele are approached with a clean slate based on solid practices wherein all the information is gathered and processed. This includes concept, budget, schedules, project review with trades and suppliers, contracts prepared and signed, issuing of purchase orders, supervision of project, and final review to ensure all details have been completed and the clients are satisfied.
The needs of each client may vary, depending on whether it is a renovation, a new office or an addition to an office. Various degrees of involvement need to be discussed on an individual basis. We would be pleased to show you a portfolio of completed work.